lingo of my inner voice
Thursday, January 06, 2005
perfect happiness comes from a two-rupee note
A two-rupee note or maybe a five rupee one
From a lady who had no blood relation with his son
But for a child who considered him the great grand mum
It was an affectionate gesture that always spread fun



It was her love that made the child feel his worth
Her memories give me so much comfort
As now Maji is no more with us on earth
But Her prayers are my strength when times are tough



I miss her so much which I can't explain
Her death caused me a huge amount of pain
But today I realized, alive is the love chain
Because she is in my heart at all timeframes.
My dearest maji(late neighbor of ours, I considered her as my grandma), passed away few years ago which was a big shock to me and my inner self as she was supposed to come at our home every single nite and it filled our home with happiness and made us look complete. She passed away three to five days before my b'day leaving an envelope as a gift, telling my dad that she will also give my mom something special on my b'day which my mom liked immensely but never got. It was not important for us to have these things as we had already got the love that was treasured in that gifts and still having comfort from it…
I saw an old lady today showing her affection to a child and at that moment I just remembered my maji, which was such a soothing feeling. When life has become so busy and brutal, it has become just impossible to find this unconditional love. The love and affection she gave me in my childhood days by giving a two or five rupee note which was not a worth for me at that time or now but yes but the love hidden in it was always priceless and precious for me. I always walked to her to ask for her prayers before exams and result and ran into her home to tell her that I got the position in class. That news made her happier than me. I know her absence has left a void and there is no need of filling it as she is and will always remain in my heart; same is the feeling of my family. I know where ever she is; she can listen to my heartbeat that expresses my love for her and I know she is still praying for me while relaxing in heaven.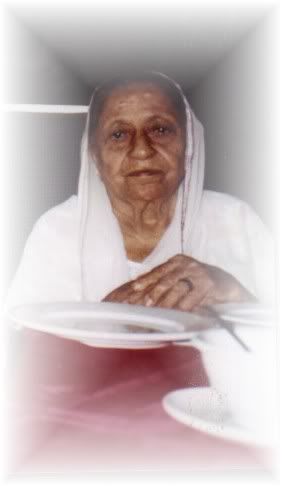 Scented Words posted by Raheel Lakhani :: 11:46 PM :: 1 Comments:

---------------oOo---------------