lingo of my inner voice
Thursday, March 31, 2005
being fooled around and then attitudes duh!!
its one day before
April Fool
and i am already dere in the FOOLs list with her stupid lame paindoo prank... yes it was LAME, don't ask how. probably many
already
noe about it
(:p)
Scented Words posted by Raheel Lakhani :: 11:55 PM :: 0 Comments:

---------------oOo---------------



don't mind... i m not getting the required vibe tonite... i am unable to vomit out my words... there is kinda short supply of nice ideas and i hate this phase. ttyl.
Scented Words posted by Raheel Lakhani :: 2:36 AM :: 0 Comments:

---------------oOo---------------
Wednesday, March 30, 2005
super kawaii

i will prefer writing something sensible in the late hours of night. for now i am listening to "Harajuku Girls" by Gwen Stefani.. a crazy song, creative vocals and nice twists. i m just loving harajuku girls.. they have a wicked style! do lend a patient ear to this song, sir zaroori hai!
Scented Words posted by Raheel Lakhani :: 11:22 PM :: 0 Comments:

---------------oOo---------------
Tuesday, March 29, 2005
about to burst

enough is enough... i can't tolerate this anymore... i am angry... i am depressed... i feel like i have been cheated... i feel like i have been emotionally assaulted... i feel like i have been used as a toy, played and then thrown in a bag of sick smelly garbage. they don't have brains, they themselves are mentally and morally confused so there is no use of talking to 'em. i thought i will write something about emotions today but unfortunately my emotions and I are feeling like a blown baloon which is about to burst so i won't be able to write anything more.

*adios samigos*
Scented Words posted by Raheel Lakhani :: 7:14 PM :: 0 Comments:

---------------oOo---------------

music in reach

Only three hours of sleep i.e. from 1:00 am to 4:00 am in the morning and i don't regret it because after those satisfying hours of sleep, the world is much better with this magical music site. http://music.takdownload.com

This is the dream site man, there are full albums of various artists available for download in less time(speedy) and the best part is you don't have to spend even one cent. They have many old and new albums of

some

of the famous and recognized artist in the world under one roof of a damn good site. Yippieee!!! it was so easy man, just one yahoo search and I got the link of one of the best-est sites in the word. Hurray!!! Cheers!!! Clap, Jump, Scream, Dance... I lurrrvee being a wacko jerk (the end)


not yet! it is not the

perfect

site as half of the site has broken links but yaar it has Gwen Stefani's - Love, Angel, Music, Baby so jitna mufta aaye; grab it and swallow it. Sab jaye par MUFTA naa jaye dear! thats my funda or mantra whateva you say.
Scented Words posted by Raheel Lakhani :: 5:38 AM :: 0 Comments:

---------------oOo---------------
Monday, March 28, 2005
enuff said!

it is 6:41 in the morning and i am not sleepy... isn't it strange? ofcourse it is; the worst part is that i have nothing to do so i thought about writing a blog post but instead i wrote this huge comment to hira, my friend. huh!!!!! kinda long wala sentence naa

comment said:"if you have some group photo in which A is also present... that would be a perfect present! no bouquets please, they are hell lot of a problem.. yaad hai saebz ke bday per kia huwa tha. forget it! you can also contact jamiat for making this a full uni event but i think its a damn bad idea.

wrigley's is damn addictive.

slims are really nice and moiz is rite.. you can still marry 'em.

Jerry springer is indeed an insane stupid weirdo kind of a show.. even more ghatiya than those saas-bahus wala dramas.

Hira, you know i listen to some selected music so keep updating me about the new good tracks on regular basis.

Thankyou for reading this comment, if you like it, very well, if you don't, I don't give a damn ;) :p"


and after writing so hell of a shit, i think there is no use of writing a blog post... so y the hell i am typing it. this sleeplessness have

indeed

made me insane a.k.a. mad.
Scented Words posted by Raheel Lakhani :: 6:41 AM :: 0 Comments:

---------------oOo---------------
Sunday, March 27, 2005
insane rollercoaster ride

The musik showed a cooking program in which Faraz Anwer was making a strawberry lassi. Ali Hamza looking wacko weirdo cuto ajeeb sa kind in latest video"Kutte". Ali Zafar(hate him) eating KFC chicken. Are our own pakistani rock stars have lost their nuts? thats the question for today!
Scented Words posted by Raheel Lakhani :: 8:27 PM :: 0 Comments:

---------------oOo---------------
Saturday, March 26, 2005
stomach-ache... laughing like hell

dino aur mastersaheb filhal out of control ho chuke hain and y the hell they are discussing about pakoras... jo bhi hai, dey are fun and cool but they look

little

gay to me with all those flirting and pappis.... lol

unki ajeeb si stupid harkatein, horrible laughs and mindless talks... all this things are great fun!
Scented Words posted by Raheel Lakhani :: 7:08 PM :: 0 Comments:

---------------oOo---------------
Friday, March 25, 2005
your -n- a loved 1's healthy life is precious

i was watching OPRAH few days back and the show was about malpractice of doctors. there are few guidelines you should follow before a surgery:


always take a second advice after diagnose of disease

ask doctor about the best and the worst case after surgery

be sure that doctor has seen all the details of your profile
you should stick a sticker on the similar organ(which dont need surgery) having words "DONOT CUT HERE!"
trust your doctors but always remember that your own GUT feeling is the best judge
never keep loop-holes open, ask anything and everything that is required and it is important that no doubt should be left unanswered; doctors never get offended if u ask them questions.

for more information... www.oprah.com and you can have a further advices from search engines.
Scented Words posted by Raheel Lakhani :: 6:39 PM :: 0 Comments:

---------------oOo---------------
Thursday, March 24, 2005
battery on recharge

I wanna write like hell, i already have a long list of topics, but i don't have even one drop of oil left in my complicated mind. If briefly said, i am out of inspiration. So meet u 2moron, sorry 2morrow :p with some inspirational deeep writing or maybe some simple down2earth stuff.
Scented Words posted by Raheel Lakhani :: 10:20 PM :: 0 Comments:

---------------oOo---------------
Wednesday, March 23, 2005
thankful... luck I like you this time

yaay!!! i won 2nd prize in story writing competition... and was very damn lucky... why? it is a secret so i would like to continue with keeping it as a secret. i got an award and liked it too. cheers!! and all those people who are waiting in line for some treat.. guys and gals two words for ya
"GET OUT" :p
Scented Words posted by Raheel Lakhani :: 11:20 PM :: 0 Comments:

---------------oOo---------------
Tuesday, March 22, 2005
clear white picture

You can't call any ordinary human being as right or wrong, you can't be judgemental as there exists nothing as perfect and there is always a vacant huge room of improvement, and ofcourse if its in genre of religion then extremists are never welcomed. Religion has two shapes, the one is the social/cultural religion which a society adopts as a norm and the second is your own personal religion. No two humans are ever made identical, we have our difference and we should learn to live with it. Diversity is always a strength and we should make use of the best which is around. Fights and destructive criticism and doesn't pay anything. It is high time to come together under one roof and prove ourselves to be united while living and appreciating with our differences without any compromises. Live and let live if none is harming others. Islam has always been the religion of peace and brotherhood, these are the extremists who have dealt with it like their private properties.




Listening to:

Rich Girl - Gwen Stefani... this na nnan naaa thingy is making me crazy and i am loving it.
Scented Words posted by Raheel Lakhani :: 12:33 AM :: 0 Comments:

---------------oOo---------------
Sunday, March 20, 2005


i lurrvee it when my room is full with smell of pizza. its best for aromatherapy!!! two large pizzas and 1.5 persons to finish it in 2 days... its like heaven to me.

pizza xpress is comparatively cheap but they are closing their buy1-get1free scheme :( according to them, its a loss wali deal and gives alot of headaches to them.
Scented Words posted by Raheel Lakhani :: 4:57 PM :: 0 Comments:

---------------oOo---------------

100 things 'bout me.

Oh heck, here it goes.

1. I hate it when people tell me what to do.
2. I eat, drink and sleep movies: especially romantic comedy and parallel cinema. Black and Kal Ho Na Ho are the best among the best.
3. I love Indian Idol and Kumars at No. 42.
4. I love pampering and getting pampered. I like appreciation
5. You can easily hurt me. I am very fragile to the comments.
6. I am fascinated by beaches and love fresh chilling winds.
7. I worry about insignificant things. This is making me insane.
8. I am not a risk taker.
9. I sometimes cross that fine line between assertive and aggressive. I can be very stubborn.
10. I prefer sms to the telephone. But it is the other way round for Umer. I love my cell too, you can have the bestest mobile pics in Samsung X-600.
11. I am friendly. I like to help others that's why sometimes its hard to say no.
12. I wish I was more fluent in English and Urdu both. There is always some room for improvement.
13. I am a good speaker and a better presenter.
14. I hold grudges. I try really hard not to, but sometimes I just can't help myself.
15. I am a take charge person and can't stand it if someone else is in charge and not "doing it my way". That's a quality of leader. I can tolerate some effective sensible opinions.
16. I love hanging out with friends and having some good dinner with ambience.
17. I am very artistic. I like to be creative and abstract ideas are the best things to think. I wanted to study Communication Design. Sigh! some things don't allow me to do that.
18. I love music. Every kind. Except those weird Paki filmi tunes.
19. My ideal wife should be loving, caring, intelligent, co-operative, artistic etc Good sense of humor and insanity is a must =P Conservative No-No.
20. I like Mehreen Jabbar's Plays, Dino's Radio Show and Sara Memon's voice.
21. I know a little bit about a lot of things.
22. I am not afraid to tell people that I like them.
23. I love dancing like no one's watching. Btw I don't have 2 left feets. I do pretty good.
24. I'm fond of rain but hate thunders
25. I really like ice-creams and chocolates.
26. When I get angry, I don't care for anybody. Not even barey budhey(in one word elders) and I get loud like hell.
27. I love to take rides in Sindbad.
28. I am spontaneous person. I am programmed to do blunders
29. I'm a typical Leo. =P and I am happy to be like this.
30. I like Atif Aslam. I like Entity Paradigm.
31. I love pizzas and donuts + biryanis and niharis + all those chocolate desserts
32. I'm really forgiving and generous but I can't forget anything.
33. I m a computer freak. People call me "raheel dot com"
34. Umer is my best friend.
35. I loved Truth or Dare during last days at AKHSS. I was a kick-ass hit.
37. I didn't had a normal childhood in a way but had tried a lot of fun things.
38. I have never smoked a cigarette in my entire life. Neither do I plan to.
39. I love to own unlimited nice clothes
40. I'm pretty good at dissing people.=P
41. I am capable of being really mean.
42. I love blogging. Hatz off to Hira.
43. I hate giving urdu ka paper.
44. I dont use medicines when I'm sick but I dont mind using em. I can't swallow pills.
45 .I've discovered that I am not a pet person. Animals are better off in zoo
46. I am a loser when it comes to ratifying things.
47. I hate to cut my nails but yaar I also hate dirty nails. I love nail piercing. I am naily kinda person.
48. I like to irritate people.
49. I don't like being fat but I pretend to do so.
50. I have my own sense of humor
51. I hate sports. I hate CS too =S
52. I don't like mess in my room but i also dont like cleaning it because there is a big chance of losing my aiweeen hazaron papers.
53. I'm very dramatic. I still think I'll be a kick-ass actor someday. =P or maybe director
54. Ms. Ruqaiya, Ms. Saulat and Ms. Shahana are the best teachers I have ever got. Sana Ashrafi Aata(flour) was the funniest. I love teaching too.
55. I don't like most of male teachers because most of them are not so competent.
56. I am terrified of heights, dark, dogs.
57. Simpsons is the best-est cartoon ever produced and I like Adam's family, Pink Panther and Captain Planets too
58. Seeing someone fall down is the funniest thing on earth to me. I love laughing, I can barely control myself. one of my friends calls me PING PONG and many know why.
59. I dont like hospitals. They give me irresistible fears.
60. I scared of changes. Like haircuts, residence, schools, friends etc
61. I watch/like reality TV. it's stupid and fun. Full of suspenses and suprises[Indian Idol for example =P]
62. I love blue, orange, move and earthy colors.
63. I hate simple shalwar kurtas
64. I am an open book when it comes to me, but i can keep a secret if asked.
65. I love chilli sauce and spicy food.
66. Bounty and Dairy Milk are the best chocolates.
67. I'm afraid of death.
68. I love writing and reading.
69. If I'm good I'm very good, If I'm bad, I'm horrible.
70. I don't like destructive criticism.
71. I can't stand paindoos.
72. I love saying these three words: damn, lame and lurrrveeely
73. I'm very emotional and sentimental, specially when sometimes says something hurtful or I am watching a movie.uwwwwaaaaaaiin uwaaaaaa
74. I want to see a bollywood movie in a multiplex. Shahrukh Khan and Kajol pair preferred.
75. Orkut's no donut msg pisses me off.
76. I would love to go on a cruise trip with my friends and stay on a beautiful island.
77. I have been the cheater, the cheatee, and the cheated on.
78. I love my AKHSS and my friends. I still miss it.
79. I want swim In money. I want to be a billionare.
80. I believe in equality when genders are concern.
81. I believe in horoscopes and zodiac signs' characterstics.
82. I wish I was a bit tall and a lot thinner.
83. I love my parents but its kinda hard to express it.
84. It's a secret but for a hint its something personal and religious.
85. I am happy to be one and only child of my parents. I never regret it. God is kind.
86. I am young at heart kinda person.
87. I love taking pictures of friends together having a ball.
88. I hated my school. Only Rabia, my sweet sis helped me survive.
89. Abhijeet and Aditi Paul are great. I would like to listen a duet from them
90. Winter is my favourite season.
91. I want to visit Disney Land and Madame Taussads Museum
92. I would love to go Paris and Amedica someday.
93. I like snow.
94. I lurrrrvvve coffeee. I'm not at all a tea person, it tastes bad.
95. I appreciate diversity. I'm comfortable with people of every races.
96. Aged people can't understand my name and it annoys me much. Maybe b'coz of my cut accent.
97. I love fantasies but I am kinda realistic person. I am not superstitious.
98. I love KFC'S zinger burger, it is the best burger in town, then comes Khan Broast.
99. I'm not interested in politics at all.
100. I hate my nickname Raja Raju so freaking cheap and people I am not Rahul, its RAHEEL here.
-finito, quite an achievement

inspired from hira's and sarah's posts.
Scented Words posted by Raheel Lakhani :: 4:25 PM :: 0 Comments:

---------------oOo---------------

kahan se, wahan se

idhar se-aaa udhar se-aaa kyun se-aaa kon se-aaa kahan se-aaa wasay-aaa

yes wasay is the person who has put me in damn bad trouble. actually he is also trapped in it. by now most part of me has came out of this problem but this thingy has given a great amount of mental ordeal. wasay i feel like killing you whenever i think about those bitter experiences which are caused partly by you and acca body. man sometimes you make me so damn confuse(D).
Scented Words posted by Raheel Lakhani :: 1:53 AM :: 0 Comments:

---------------oOo---------------
Saturday, March 19, 2005
Stupid Pointless Quiz
Dhaka Start !!!!

spell your name backwards: LEEHAR

have you ever had a song written about you: Dil Chahta Hai
what song makes you cry: Yaqeen-Atif, Kal Ho Naa Ho-Sad, Don't you cry tonight-GunsN'Roses... am I a cry baby?

what song makes you laugh: Aye Raju, Kutta Kata -Devang Patel

what do you listen to before you go to sleep: Dino's Show on Radioactive96 fm

height: i suppose, 5'4"

color: blue, move and earthy tones

piercings: nopes.. i wanna 've my eye-brow pierced

tattoos: naahhh

-Right Now
what taste is in your mouth: pijja

whats the weather like?: hot damn hot

how are you: the way i shudn't suppose to be!

get motion sickness: maybe

have a bad habit: sleeplessness

get along with your parents?: mostly

have a current crush: aditi paul and kajol (both married) duh!!!

have a big regret: whole lot of 'em in my bag

what color pants are you wearing: shorts* blue one

boyfriend/girlfriend: underconstruction ;)

what song are you listening to: hanging by moment - ligehouse

-FAVOURITE:
tv show: Indian Idol, Kumars at 42

book: Jonathan Livingston's Seagull, My Feudal Lord

non alchohol drink: coffee

alchohol drink: haw haayeee!!!

things to do on the weekend: i am on a long holiday :), waise ab khatam hone wali hai :(


-Have You Ever:

broken the law: not really

ran away from home: can i ?

snuck out of the house: yaay!!! shhhhh!!! tiptiptip..taptap

ever gone skinny dipping: nope

made a prank phone call: have received more than that

tipped over a portapotty: yuck... have you gone mad?

use your parents credit card: nahi baba

skipped school before: i loved it

fell asleep in the shower/bath: naa, i am perfectly sane

been in a school play: since 3rd grade, it was fun... i have already got my deserved minutes of fame

had children: shaadisephele.. no way

been in love: maybe... i dont think so

been hurt: every now and then

gone out with someone you only knew for 3 days: don't remember
-Random:
have a job: still finding, wannabe RJ! hey karachi khem cho!

your cd player has what in it right now: My lurrveely Indian Idol Collection

if you were a crayon, what color would you be?: Orange

what makes you happy?: friends, occassions, parents, appreciation, gifts, success, music+dancinglikenoneiswatching, movies and the list goes on

the next CD you're going to buy: IRTIQA coz i dont have it on a cd

-When/What Was the Last . . .
you got a real letter: god knows

got an email: its a daily chore, horoscope wali email

thing you purchased: pizzas

Tv program you watched: american idol auditions on series

movie you saw in the theaters: Jumangi

kissed: did I?

hugged: on last eid... i hate 'em

song heard: rock tha party-bombay rockers

place you were [ besides home ]: Pizza Xpress

phonecall: wasay, my akhss-mate.. nice BOY(i suppose)

you were depressed: previous thursday

you were in the hospital: God forbid

-What Comes to Mind When You Hear:
car: longdrive

murder: bheege hont tere(song)

cape: town

cell: photos

shoe: gf maare gi

fun: friends

crush: kajol

music: soul

love: more love and sweet chocolates

chalk: ms. sana ashrafi(bichari ko bohat tang kia hai)... chalkfight
from Hira's Blog
Scented Words posted by Raheel Lakhani :: 6:53 PM :: 0 Comments:

---------------oOo---------------
Friday, March 18, 2005
Sabaina - another gloomy star with a red scar

Sabaina dressed in her beautiful orange colored clothes, in late hours of midnight was sitting on her master bed, resting her back on a fluffy pillow. Her bedroom was painted in shades of reds, maroons and lovely pinks. Dim lights gave her company inside and darkness ruled the outside. Loneliness was the factor prevailing at both ends. Sabaina lost her ever charming joy as her husband was on a business tour on her first anniversary. Half of her was resting underneath her baby pink checkered quilt and rest was trembling by the mix breeze making her way inside the room from the open ventilator and ofcourse fan was also on duty. She tuned in the radio which was airing some sad romantic songs. She digested those tunes with a bite of bloody red coloured apple that seemed like blushing from the midas touch of the lady. Her red saucy lipstick mark gave a more rough but tempting texture to the real existence of the apple. While taking her first bite, she never knew that it would be her last bite and that apple will be termed as dirty forever. Keeping the apple aside, she stretched her arms to fetch the book kept on the farawaycorner of side table. The existence of red was inevitable in her room, which again made its quiet prominent presence with this book's cover. The cover art had a heart pierced with knife forcing the cover to wear a red splash. Cover had a dark, dry and dusty feel to it but all that Sabaina saw again was the identical RED color on the cover accompanying the same feeling as her. At that moment, she realized that it was a kinda inside-out chore. As the pain, loneliness and sad romanticism that was getting all over her was simultaneously felt by every corner of the room too. Radio was also feeling the same words and the same music. Book had the similar dull ambience. She looked out of the window and saw nothing except the color black as the background of the beach, grayish white tips of water and the light of red bulb coming far from lighthouse, which looked like a tiny burning star on a thick red and white stripped magic wand . She heard words - of song from radio - "waiting for tonight, when you will be here in my arms" and thought whether these were sounds from radio or her inner voice. She missed some affection and whole lotta red love.

Now she knew what she wanted, her dream was 'to paint herself completely in RED'. She got out of that red room, opened fridge, drank some water, took a knife and came again in her choked known surroundings. She wanted a scar on her wrist so the tool knife can help her to accomplish her dreams. She was not committing suicide, she was trying to get the thing she desired the most at that time, she wanted herself to be painted in RED. But sigh no blood, no achievement, no super-saturation level of red and what she found was polluted water of Karachi in her body spilling out from her veins. She became more gloomy. She thought, "Why it always happens to me? whenever i crave for something badly, it rushes miles away from me. Why me? and only me?" She went outside on the beach, walking into the water, going deep and deeper inside. That was the last night of Sabiana on the surface of earth accompanied with her last occasion of seeing her own self in mirror, her last encounter of listening to FM station, her last bite of red tempting apples, her last attempt to appreciate art and her last chance to open the fridge and feel its cold sensation.

The next afternoon, her dead notwhole body was found at the shore, verified by her husband and guess what, she had a deep wounded scar on her forehead - a gift for her anniversary, symbolizing the eternal love of her marriage . Her clothes lost its original color and her dreams came true, she was painted in red yaay!! She was in her sacred

RED

. But how???, she didn't had any blood in her veins?????, the crisis was, she was either color blind or highly depressed, mentally diseased person. Completely shattered and extremely poignant, her husband walked around the shore and heard a child singing song "Gutter ka paani pi lo, kabhi na kabhi toh pi lo" Those words were mere sound for him, like noisy rackets of airplanes which have no significance. He kept thinking of Sabaina, tears dripped through his cheeks, fell on his wrinkled hands and then mixed with the seawater making it even more saltier. He never got the answers of his unknown questions but the smile on Sabaina's static dead face was ample enough for him to spend the rest of his life in that haunting yet serene red room with his newly red streaked hair.


PS: My first ever work of story writing/telling, medium by which i can satisfy the artistic side of me and can give some form to my abstract ideas. Btw the name Sabaina means sky full of stars. Please do COMMENT!
Scented Words posted by Raheel Lakhani :: 4:51 AM :: 4 Comments:

---------------oOo---------------
Thursday, March 17, 2005


scream, clap, jump, dance and yaay!!! jazz has lowered its rates for all outgoing calls but still i am not happy enuff dey dont give you mms and wap.
Scented Words posted by Raheel Lakhani :: 11:32 PM :: 0 Comments:

---------------oOo---------------

kinda(word used 3 times in this post)artistic

i am destructive-type of guy. hey people dont take this statement as a negative notion. the problem is that where ever i go, i say something that is not appropriate but i also dont mean it, i act/do something that is again not feasible but i also didnt had such plan, i go somewhere and then mess up whole thing by giraofying something mistakenly and then have to face the embarrassment, kinda hard to understand. kia karein dear, i don't think much before acting/saying/doing....bla blah something. i am kinda spontaneous type of person. yeah one of those artistic type of people with all those abstract ideas, nice emotions and exuberant vibe but socially it makes me kinda weird. i may be so damn ajeeb sa for others, but yaar i am young at heart and thats wat counts the most.


end note: great idea, bad written post but hearty essence. nice dood nice
Scented Words posted by Raheel Lakhani :: 10:28 PM :: 0 Comments:

---------------oOo---------------
Wednesday, March 16, 2005
Radioactive Roxz

Radioactive96 fm has replaced my need for coffee. yeh people i m just lurvving it rite now and guess what... with every next show i m getting addicted to it. You know they play all the good stuff even indian ones too, have good RJs and interesting listeners. Whether its nice soul of Sara Memon, the style of Navin or the funny bone of Dino... everyday is sunny at Radioactive96. Yaay!!! I have found my new caffiene capsule.
Scented Words posted by Raheel Lakhani :: 4:57 PM :: 0 Comments:

---------------oOo---------------
Tuesday, March 15, 2005
depressed

When cloud of problems is over your head, raining big drops of problems and all you can hear is its thunder, its really very depressing. When there is none to whom you can empty your heart's heaviness and all that prevails is nothing but silence, which haunts you continuously after every microsecond, then all you want is to sleep to get away from uncertainties. People i want your immense prayers.
Scented Words posted by Raheel Lakhani :: 9:48 PM :: 0 Comments:

---------------oOo---------------
Monday, March 14, 2005
touched

Reading and Writing has become a sacred process for me, i have all the time in this world to do these things plus i don't feel sleepy the whole night if i am with a good book. Writing obsession can be judged by my blog. Both of 'em helps me to explore myself, express myself and expand my thoughts to infinite horizons.

I couldn't tell you why she felt that way,
She felt it everyday.
And I couldn't help her,
I just watched her make the same mistakes again.

What's wrong, what's wrong now?
Too many, too many problems.
Don't know where she belongs, where she belongs.
She wants to go home, but nobody's home.
It's where she lies, broken inside.
With no place to go, no place to go to dry her eyes.
Broken inside.

Open your eyes and look outside, find a reasons why.
You've been rejected, and now you can't find what you left behind.
Be strong, be strong now.
Too many, too many problems.
Don't know where she belongs, where she belongs.
She wants to go home, but nobody's home.
It's where she lies, broken inside.
With no place to go, no place to go to dry her eyes.
Broken inside.

Her feelings she hides.
Her dreams she can't find.
She's losing her mind.
She's fallen behind.
She can't find her place.
She's losing her faith.
She's fallen from grace.
She's all over the place.
Yeah,oh

She wants to go home, but nobody's home.
It's where she lies, broken inside.
With no place to go, no place to go to dry her eyes.
Broken inside.

She's lost inside, lost inside...oh oh yeah
She's lost inside, lost inside...oh oh yeah


-Nobody's Home, Avril Lavigne



last night i went through last pages of the book TABOO by Fouzia Saeed and found this song so much related to 'em. The last two chapters were really haunting. I really liked this book, it a must read for any feminist. For a sensible individual, it is an eye-opener about how the society has been moulded to work for men. The last two chapters had a deep impact on me. It narrated the events in the history where men shaped such a society that for every evil women has to be blamed so that his insecurities and immoralities don't open up in front of others. She has to face this ordeal specially in poverty lined areas in order to just live in this society or else Karo Kari is not an exception, hopeless situations force her to sell to the orders of his man... Pathetic! As i am very much liberal about most of the things, i totally agree with the equal status of both the genders.
Scented Words posted by Raheel Lakhani :: 11:22 AM :: 0 Comments:

---------------oOo---------------
Sunday, March 13, 2005


there is a good mood and there is a bad mood and there is an interesting mood and in addition to them, there lies a blank mood where you can't judge how you are feeling. today major part of me is feeling blanky blank.
Scented Words posted by Raheel Lakhani :: 3:28 PM :: 0 Comments:

---------------oOo---------------
Saturday, March 12, 2005
a cracked glass filled with blood and a black shameful face

I heard about an incident covered by aryone-world in their news that made me damn angry. The news stated: school principal beaten a child (aged 6-7) so brutally that he lost his conscious. He was sent to his friend's home (not to his own) and then they headed to hospital when the child was in a very serious condition. His father gave this interview and had whole right to charge him against this cruel act.

Its globally accepted that physical violence to anybody is never justified. That bloody principal didn't have any brains to realize the maturity level differences in him and that innocent child. I am suprised that how come there came no thought in his mind about the physical, mental and emotional ordeal that this small child will have to face through out his life because of this sick mistake. I am damn sure that by now the child's fragile self-confidence would have shattered into pieces. He is a bloody criminal and should be sentenced to a tough punishment. This is the high time for us to protect our and others rights. I believe a person who can't respect others has no self-respect and should also not hope to get any respect from others. This is the way it works.
Scented Words posted by Raheel Lakhani :: 8:08 PM :: 0 Comments:

---------------oOo---------------
Friday, March 11, 2005
winds came abruptly, hit me hard and then a new transition evolved

opportunities come without any indication. sometimes it becomes crucial for the person if he has to prove himself there and then without any prior notice or rehearsal(performing anything becomes even more hard). this becomes a real challenge!! there will always be mistakes which will provide you further room for improvement. if its the first time then its okay to make blunders but the thing which matters the most is the end product. remember this judgement of end product is mostly based on what and how u scored throughout so every little point should be balanced. people who are consistent always win.
Scented Words posted by Raheel Lakhani :: 6:14 PM :: 0 Comments:

---------------oOo---------------
Thursday, March 10, 2005
paindoos on-air

If we talk about something like "Pakistani people and their wonderful traditions", we or atleast i can't ignore some facts rather behaviors of our masses. Let me write about one, the paindoos on air phenomenon. Whenever i see any public opinion based road show on any of our local cable-network channels, i notice this absurd phenomenon. There is a host chatting with a person and suddenly what you see in the background is a crowd of

paindoo-ish

people pushing each other out of some sort of (so-called-by-me) mental sickness and peeping between the heads to see the camera. There focus is other on being

seen

on television or to satisfy their curiosity about what is happening around. Those people are always ready to interrupt while others talking, to shout, to fight and do all the weirdiest typos of things. They can throw their opinions on any topic but are they logical? to some extent because

our nation is an emotional fool

. Just see how we react to India, fashion, modernization and whole other lotta things.
The word emotional reminded me of the scene i saw yesterday. There was a panga held on the road and in few minutes there were two groups. Crowd gathered and first witnessed their own curiosity. Crowd would a underrated vocab for them so i would say SPECTATORS. Then those spectators bifurcated into two parties and then the panga was resolved or rather turned into huge mess and please don't misunderstand me as one of those paindoo because our van stopped due to red traffic signal. I don't understand why people can't mind their own business.

PS: this so-called blog post is not about criticizing people but its about vomiting my frustations out and present the facts with some insight.
Scented Words posted by Raheel Lakhani :: 11:24 PM :: 0 Comments:

---------------oOo---------------
Wednesday, March 09, 2005
i m so high!

yet another day at teacher's training with same lecturer and i was safe today :)

This whole thingy looks like a stupid play having distinct characters. Characters having predictable behaviors, yet acted in an unpredictable manner. I had a good moderate share of fun while watching those characters and then laughing on them behind their backs. I am such a !@$#&^* =p. Characters include our nice van driver who has an interesting habit of commenting on every significant or trivial thing happening on the roads of karachi. An uncle with an ajeeb si uninviting smile. One more uncle in the cue who when says something in excitement, it looks like he is dancing or doing a conventional punjabi sick bhangra or may be pacheri(gujrati word for dupatta/scraf used for covering head) dance. There was also a boy to whom our lecturer asked for a glass of water and what he brought was a big one n half liter bottle of water . In all those uncles, there is an aunty too. Aunty is a great shosha. Being an M.A. in Islamic History, she has a great knowledge and quite okay critical thinking abilities so she never wasted any chance to contradict others, she doesn't even spare our lecturers. The best part is it is very difficult to make her understand anything. As for today, we got maximum utility of fun from that aunty because she came with us in our van and continued her chik-chik, we innocent people backbited and also teased her. The most hilarious moment was when i told my friend Faizan that this pakao aunty is scolding us and he shouted,"Taiko sharam nahi aati tu aunty ko pakao kehta hai" and he also repeated in about 2 -3 times more. After that incident we laughed, laughed and laughed even more as if there will be no tomorrow. Quite an absurb but attractive characters. I know you will agree with my statement. I know backbiting is not a good thing, but this time i can't help it, it was unavoidable.

Listening sacredly to CHANNA VE - an excellent punjabi pop song
Reading: Taboo! by Fouzia Saeed
Scented Words posted by Raheel Lakhani :: 11:02 PM :: 0 Comments:

---------------oOo---------------
Tuesday, March 08, 2005
in order to gain some, you lose some

I was seated somewhere in the first row in a gathering of about 30 to 40 people. Purpose was to acquire some useful knowledge in teachers' training session(course: history) and

we

got a big slice of it but for attainment of the purpose of

we

,

I

a.k.a Mr. Raheel had to go through a huge amount of

ordeal

. No doubt the lecturer was par excellence and provided us a huge score for critical thinking and intellectual development. The bitter

@#$!#%^&

part was his rude and insulting behavior.



Mr. Shafin, our lecturer in middle of his lecture said to me in a very serious tone, "the shirt you are wearing is BEKAAR, go out and change it", He added "

jao shirt change karke aao

, coordinator saheb isko bahir nikalo." The well expected laughs and humor was received and had a mortifiest

(Wonder of Ms-Word Thesauras)

effect. The way, he embarrassed me in front of whole class, just to give them a good concept about the absorbing and volatile behavior of creatures and their thinking patterns was not appropriate and advisable. I thought why me? why i should go through such humiliation for others? The answer was obvious: he was jealous of my shirt

(the ironical part is i wore it just bcoz i love this shirt and it looks damn cool on me)

or i was a front seated innocent looking guy :s. It was the first tyme when i thought of tearing the floor of a rostrum and throw someone else(instead of me) inside it. With much regret, i took it as a joke, pocketed the insult and gave him my pretty contagious smile(overrated comment).

By that time, i had become his toy. Now the next comment was completely not required and came out sudden, as splash of humor was again muchos needed in class. He again said "Jao, Bahir Nikal Jao Class Se" but the difference was of a humor tone to it. He also apologized me after it(yea, obviously in front of all the spectators) but what was the use of saying it after muchos torment that I suffered. But koi baat nahi as "chote chote sehron mein aisi bari bari batein hoti rehti hai(this particular sentence is an adaptation from DDLG, i lurrvingly lurve this movie =P)

And then this co-ordinator of ours, listened noisy bitchy conversation of ours(me and some friends) and started giving his not much needed opinion "ke beta aisa hota hai, ye baat

aap hi kyun

wali nahi hai aap bhi koi class parhate hain toh you pick one person aur woh bhi aise hi" and i said to him"Yeh sir, no problem. i know it happens" And the other second i regreted saying that because it mounted much more criticism by that me-like(same looks yaar) co-ordinator. By the way, me-like person is not that bad because once upon a time, he gave me and my good frnd wasim third position - yaay!! in brackets - in presentation cum research competition.

i dont know why i suffered with so muchos of criticism from every other corner today. some of it not even discussed here. this post was meant to be long and tiring so now i am damn badly tired.

Scented Words posted by Raheel Lakhani :: 11:33 PM :: 0 Comments:

---------------oOo---------------
Monday, March 07, 2005
must-wanted peace

Reading blogs gives me immense peace and happiness in every color of my mood's spectrum. Its effect is so magical that you get spell-bounded by good writer's blog and the best part is i have made

minor

but effective connections with the people whom i even don't know. It gives you knowledge and wisdom from other people's experiences and opinions. Its truely an 'educating with fun' process. I also get chance to see alot of pictures too =P

On the contrary, meeting people in real can be very bitter experience. I can even stand boring people but those who are paindoo-ish, diplomatic and uhu-type(

chipkooos

) are beyond my limits. They should learn how to speak and behave. There is piece of advice for the second typos that they should be honest about what they are saying, and later on should stand by their own words. And for chewing gum type people i can say only one thing - If i promise to miss you, will you go away?
Scented Words posted by Raheel Lakhani :: 11:14 PM :: 0 Comments:

---------------oOo---------------

strange is an understatement

Presently, my life or rather my life-style is in complete mess. Have you ever seen a guy eating yesterday's leftover food i.e. chicken jalfarezi with rice early 6:30 am in the morning? Yeah!!! it sounds strange but believe me its going more pathetic than strange. I can't sleep at right time. My schedule has taken an 180o turn, everything is heading in opposite direction. But the unique thing about today is: I have woken up early. I hope that I can get away from this problem ASAP.

Listening to: My Indian Idol Collection
Scented Words posted by Raheel Lakhani :: 1:40 PM :: 0 Comments:

---------------oOo---------------

questions which are literally making me SLEEPLESS

who the hell have the right to blame me for things i haven't done? i wonder why people can't understand what were and what weren't your intentions? why don't they listen to your explanation and draw their stupid lame conclusion? do we have the right and caliber to judge people and project them in front of the world as they aint are? why don't they think in calm about the pain and suffering they have caused to the another person and how effortlessly they have made his/her life so damn miserable?
Scented Words posted by Raheel Lakhani :: 2:16 AM :: 0 Comments:

---------------oOo---------------
Sunday, March 06, 2005
:(

There will be no more Indian Idol updates on my blog. Indian idol is over and I am in denial to accept this fact. Interest was turned into obsession and now I am paying a high price for it. Sadness has conquered every tiny vacuum that was unknown t0 me and my feelings earlier. The biggest problem is how to cope up with this low stage in my life?... so any suggestion?
Scented Words posted by Raheel Lakhani :: 10:27 PM :: 0 Comments:

---------------oOo---------------
Saturday, March 05, 2005
Abhi-jeet gaya

i jumped, i cheered, i clapped, i danced, i cried(not really) and i did yabba daba doo and you know why b'coz ABHIJEET finally did it! He is the first ever Indian Idol. A well deserved fame to a kinda rock star guy. He is surely a complete package. He has got all: Handsome looks, charming personality, mesmerizing smile and fantastic soothing voice and now a one crore rupee contract, nice car too yaay!!! Congratz Abhi. I felt bad for Amit Sana too but neva mind... its a competition yaar. Waise i have eaten so much during this 2 hr show that i m feeling like bursting up; not only b'coz of food but also b'coz i have won my bet ;)

i feeling so sad b'coz my fav show has ended yaar... but cheer Abhi-jeet gaya
Scented Words posted by Raheel Lakhani :: 11:13 PM :: 0 Comments:

---------------oOo---------------

heart-breaking fun

yeah tonite... new start will be born. i think he has already taken his deserved birth but the formality of announcing his name is still undone. I am sure it has to be Abhi. I hope that my hopes don't touch the rock bottom and i aint have to waste my precious Rs. 10 note on my friend Hina as i have made a bet with her for yummy tasty french fries. This exciting day will also bring some heartbreaks of parting away with this show to the audience. I am such a fanatic of this adorable thingy that i dont know how would i survive without it. Am i exaggerating? i dont think so. But yaay!! today is 2 hr show.. so there will be lots of fun performances and i would get chance to see my darling Aditi again. yaay!!!
Scented Words posted by Raheel Lakhani :: 5:57 PM :: 0 Comments:

---------------oOo---------------
Friday, March 04, 2005
zabardast!!!

Indian Idol's AAKHRI JUNG(final battle) and Abhijeet both rocked tonight. Excellent format, lively performances and extreme ambience, that wat it was all about. Abhijeet took full advantage of it, looked like a rock star and performed like a pop sensation. yaay Abhi... you will win man and for those who are from india and reading this blog, go and vote for him. Voting details are on indian idol website. Can't wait for tomorrow's dhamakedar result episode.
Scented Words posted by Raheel Lakhani :: 11:47 PM :: 0 Comments:

---------------oOo---------------

music, the food of soul and thought

music has always had a special place in my heart from the day one. music is the food of soul(for me its food of both soul and thought), you might have heard this a million times and believe me its 100% true. you can feel the vibe of it, you can relate with it and most amazingly you can learn so much from it. People wanna divide it into many genres but for there is only one thing which matters - good or bad music. Its hard to find good music and some meaningful masterpiece is a rarest thing, you might ever come across. Masterpieces are more tastier than chocolate frosted donuts, has more decaf than coffee and smell like those red darling roses.

Hey music reminded me about my favorite show... u would have guessed it, yea Indian Idol. Today it is the last chance for Abhijeet to prove himself and i am damn sure he will rock it. Good luck Abhi for both days as 2morrow is the final result. I have waited for this for the whole week and now i can wait no more.

- dedicated to all those who make good music
Scented Words posted by Raheel Lakhani :: 5:57 PM :: 0 Comments:

---------------oOo---------------

it was a pleasurable read

i have just completed my reading of book CODE TO ZERO by KEN FOLLETT and miraculously in 1 go, pretty exciting plot and wisely calculated mode of story telling. i lurrrveed it... i started it from 12 pm and finished it just now. it was a pleasurable read, it was expected to be like this as it was recommended by Readers' Digest. It again proved that your identity and your memories are connected and is ofcourse, damn very precious. As the part left to read became lighter, my curiosity developed. While reading those last pages, my heart sank deep with the thought that it was getting over and i have to say adios to this book but after a long satisfying sleep, life returned to its normal state.

As some time back, Ms. Sidrah said in her blog:


"But when you feel the stilllefttoread part of you book getting lighter, and as you slowly reach towards the end of the book - a part of you falls to pieces and crumbles to the floor. It's as if a good friend is parting forever from your life and you read the last few pages with a heavy heart, be the ending good or bad, and you always have tears slide down your cheek when you read and reread that last line over and over again. Nothing hits you with more force then that last line."



i agree Sids.... i surely truely agree!
Scented Words posted by Raheel Lakhani :: 6:11 AM :: 0 Comments:

---------------oOo---------------
Wednesday, March 02, 2005
lurrrveeellyyy, i taste like coffee

Buzz buzz, I am Coffee flavoured.


I am popular in the workplace, even though I am often bitter. I am energetic to the point of being frenetic; buzz buzz, out of my way. I tend to overwork myself and need periods of recovery time. What Flavour Are You?

PS: That test was so muchos wala true. i lurrve coffee, i enjoy it and i don't mind in being associated with it =P

Scented Words posted by Raheel Lakhani :: 12:16 AM :: 0 Comments:

---------------oOo---------------
Tuesday, March 01, 2005
meet the silence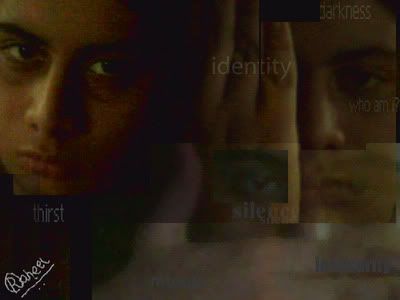 i thought about it again and suggested myself to proceed with the subject of my last post. silence is not always creepy, it also gives you happy, sad, spiritually uplifting, self-realizing, thought-provoking environment. sometime i feel like having a time, when there is no one around except silence. it is like a evaluating stick which can measure my emotions in privacy. it discloses the reality of mirages of your life. silence brings peace, it provides you the breathing space which gives you the wisdom to calculate risks, to induce calmness, to solve dilemmas and most importantly it gives you the time to be with yourself and to talk to your inner voice; getting the understanding of who am i.
Scented Words posted by Raheel Lakhani :: 11:53 PM :: 0 Comments:

---------------oOo---------------