lingo of my inner voice
Wednesday, August 31, 2005
Blog Day 2005
Shirazi
tagged me to do this post on blog day so sir, here it is!
Nir Ofir thought of a blog day to be celebrated on Aug 31. The aim is to push bloggers to move outside of those closed networks they are living. It's a day when we're all supposed to 'recommend' five blogs that we enjoy reading and perhaps others don't know about - simple way to expand that network.
Five top blogs that I enjoy reading are listed below:
See the side bar.. all of 'em are special for me and I enjoy reading 'em.
Five top '
unique'
blogs that I recommend!
Alternate Thinking
A blog with insightful self-improvement articles written by my teacher
JonyBr
I don't know why it attracts me.. I afraid it has some black magic effect.
Fragile Girl
The most lively blog.
Light Within
A blog which is highly informative.
People and Places
Our mindsets are very much similar.
PS: I won't tag anyone because I believe most of you are already tagged by someone. If you aren't then join the walk. See the logo!!

Scented Words posted by Raheel Lakhani :: 2:50 PM :: 0 Comments:

---------------oOo---------------
Tuesday, August 30, 2005
DarkColdCoffee for you.. enjoy it!

Firstly I welcome Saky - a new reader to my blog. Saky asked me about the philosophy behind my URL i.e. DarkColdCoffee which inspired me to write this post.

I would like to explain it with word by word analysis:


Dark because I think depressing, lonely and grey areas of one's life are very attractive. It is the space from where light originates, from where optimism starts and from where one accepts the challenges. I find there is also a dark space inside me which is striving for enlightenment.


Cold because I started blogging on chilly night of wintry 31st December - new year's eve which was the best time to incorporate a new passion in my life.


Coffee because its my favorite drink. It rejuvenates you plus its very addictive. I hope this blog does the same for you :)
So this is how a place named LINGO OF MY INNER VOICE a.k.a. DarkColdCoffee came into existence.


Scented Words posted by Raheel Lakhani :: 5:42 PM :: 0 Comments:

---------------oOo---------------



The past days including the weekends were damn busy and tiring. I haven't done some serious blogging in that timeframe.. btw I rarely write some serious stuff lol. I am sorrie if I have disappointed any body but honestly speaking, I don't even care about what you think.. afterall its MY own blog. Just kidding!! I am coming back in full action.
Scented Words posted by Raheel Lakhani :: 5:10 PM :: 0 Comments:

---------------oOo---------------
Sunday, August 28, 2005


Yesterday was a cool but tiring day. We celebrated founder's day less and talked more. The most terrible thing was waiting for all those late lateef people and walking from one building to another to receive them. We were either walking or standing throughout the day and I am sure I must have shed 6 kilos for sure.. I know this is exaggeration at its best. Anyways it was a nice day to meet all those bichare yaars(lost friends). As for teachers are concerned, only managed to meet Ms. Rahila and Ms. Ruqaiya because we were too busy in walking, eating, chatting and standing. I was shocked to see drastic changes in some people. The best thing was I didn't miss any chance to pull a leg of my classmates with my goofy sense of humor. My friend U got so many slaps and pats from me that he was about to get mad on me.. his expressions were damn funny. God bless him =P I think this must be getting extremely boring so I wrap it up here. Ciao.
Scented Words posted by Raheel Lakhani :: 8:49 PM :: 0 Comments:

---------------oOo---------------
Friday, August 26, 2005
Bits and Pieces
Watched Fame Gurukul today. I think something was missing. It was this. I guess, it was preplanned to vote out Mona. It became evident when I watched today's gala. The episode was perfectly planned with recorded songs and dance sequences used as filler and Mona was nowhere in it. Her fantabulous Goodbye Performance still haunts me, it was the same song that she was supposed to perform today if she had not been voted out and I bet you! She would have been safe /immune for one more week.
27/08 is Founder's Day of my dear HS/college - AKHSS. It will complete a decade filled with success tomorrow. I am very excited to celebrate this event. Can't wait to meet my rocking friends and so shweet teachers.
I started reading the novel '1984'. I think it doesn't suit my taste. Time will tell!
Its a day filled with madness because I wrote so many posts today. And don't you even dare to skip reading any one of 'em.
Scented Words posted by Raheel Lakhani :: 11:11 PM :: 0 Comments:

---------------oOo---------------

The Idiot Lodhi Show

Muchi uncle a.k.a our own president Pervaiz Mushi came in my dream and scolded me for hating Sahir Lodhi.

I still dislike him. I find him very artificial, weird and silly.
Scented Words posted by Raheel Lakhani :: 1:32 PM :: 0 Comments:

---------------oOo---------------



I simply hate the smell of paint emulsion.
Scented Words posted by Raheel Lakhani :: 1:31 PM :: 0 Comments:

---------------oOo---------------
Consciously Untitled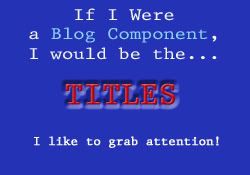 If I Were a Blog Component, I would be the TITLES.
I like to grab attention!Which Blog Component Are You?
Take This Blog Quiz at About Web Logs!
Scented Words posted by Raheel Lakhani :: 11:24 AM :: 0 Comments:

---------------oOo---------------

I am still finding one! ;)

This is the chat that I had with my shweet cousin Gudi last nite.

Gudi: Tune abhi tak koi larki warki patayi (you got yourself a girlfriend yet ?)
Gudi: Muje sab ki gfs ke naam pata hai toh teri gf ka naam bhi pata hona chahiye naa (I know of everyone's girlfriend so shouldn't I know yours as well ?)
Raheel: Abhi koshish jaari hai =p (I am working on it)
Gudi: Ab muje saarey jahan ki kabhar toh honi chahiye naa (I should know everything about everyone !!)
Raheel: Haan toh tu apna khud ka BBC khol le (why not start your own BBC ?)
Gudi: Already khula huwa hai (I'm already running one)
Raheel: Woh toh nazar aahi raha hai (yeah, I can see!!)
Gudi: lol


Now one more think, my mom thinks that I am having an affair of somekind. Our family is very liberal in the sense that nobody have any issues with it, it's just the curiosity which compels them to ask such idiotic questions. I guess, this problem runs in the family.. Lmao!
Scented Words posted by Raheel Lakhani :: 11:22 AM :: 0 Comments:

---------------oOo---------------
Thursday, August 25, 2005
I will miss my Mona darling
Now this hurts.
Mona
, the best student of fame gurukul is voted out. I can't understand why the hell they safed Shamit, only because he is their foolish friend. He has been in the danger zone in half of the episodes, he sings weird and on the top of it he is a foolish lama who just praises himself a.k.a. proud jerk.. duh!! I guess, you don't have to be the best to win these reality tv singing competitions. The biggest lacking is the format of the show. A major part of voting power is itself among the contestants and then they either vote for their best friend which is a holy shit or vote out the better person from whom they have terror because s/he can give them very tough competition. First it was Anubhav and now her. Mona got 2nd highest votes from the public, this proves how well she deserved to remain in the competition. I thought she would be the one who will win the competition but tough luck, sigh! These programs are starting to be distasteful. I don't know how would I enjoy the show without her stunning performances. She was the biggest reason for watching the show. Now I wouldn't get a chance to be anxious and wait long for her performance to come and blow away my senses.
PS: Isn't she cute?!
Scented Words posted by Raheel Lakhani :: 11:21 PM :: 0 Comments:

---------------oOo---------------
Wednesday, August 24, 2005
Making it clear - reference to previous post

Most people think that these disabled children are blessed and more mentally fit, so I do. All I wanted to say was the problem lies with society. They treat them as if they are aliens and incapable to do anything. Now If we try to change the environment and people living in it, then we are making these physically challenged people dependent over factors which are uncontrollable at large. It is also important to change society's outlook on it but it will take time. But then the crucial question is: what can we do for the victims in the mean time? Provide them a helping soul which can generate confidence in them so they can become indepedent. When minute problems and stress can make us go wild then you can easily imagine what can happen to an innocent immature child's self-esteem when s/he has to go through such brutal course every day. He can stand tall only if his family or someone else encourages and teaches them to think positive. I think both of the things have to change simultaneously. We can change society, it will help much but as it consist of individual mentalities then maybe one rigid out of them will come challenge and shatter all those capabilies of a person if that child was taught to remain dependant over what society thinks about him and should act in the same direction. The more important action is to create change within one's self then society won't matter much.
Scented Words posted by Raheel Lakhani :: 6:07 PM :: 0 Comments:

---------------oOo---------------
Tuesday, August 23, 2005
Together, we can!

My palm was numb and hand became static, when I got an injury in my shoulder and my arm can merely move; when I saw a disabled child, I felt a severe pain inside. I want to help them, not in monetary or health care terms because there are many people who either don't need it or many organizations will provide them these facilities but I want to ignite that fire which will change their lives. I want to boost up their self confidence and self esteem so they can overcome their weaknesses. In most of the socieites, they are considered as a discrete entity and sometimes such people are the victims of continuous disapproval and mockings from sociey. They need to be positive in order to live along others and succeed. I hope I can accomplish this task. Briefly, I want to help every single child who is facing these challenges, whether s/he is disabled or not.

If anybody thinks that I am a big show off then let me tell you that the main purpose to write this here is to spread a word. Everybody who thinks s/he is capable of creating a minor difference should participate. I guess, this is the best way in which we can thank God for his precious blessings that HE has bestowed upon us.
Scented Words posted by Raheel Lakhani :: 10:10 PM :: 0 Comments:

---------------oOo---------------

Now this is just insane

Marriage is one of the chief causes of divorce.

When everything comes in your way you're in the wrong lane.

Born free taxed to death.

Everyone has a photographic memory, some just don't have film.

Life is unsure; always eat your dessert first.

Smile, it makes people wonder what you are thinking.

It's not hard to meet expenses, they are everywhere.

A printer consists of 3 main parts: the case, the jammed paper tray and
the blinking red light.

The hardest part of skating is the ice.

The guy who invented the first wheel was an idiot. The guy who invented the other three, he was the genius.

The trouble with being punctual is that no one is there to appreciate it.

In a country of free speech, why are there phone bills?

If you cannot change your mind, are you sure you have one?

Beat the 5 O'clock rush, leave work at noon!

If you can't convince them, confuse them.

I couldn't repair your brakes, so I made your horn louder.

Never underestimate the power of very stupid people in large groups.

Which one is your most favorite?
Scented Words posted by Raheel Lakhani :: 7:55 AM :: 0 Comments:

---------------oOo---------------
Sunday, August 21, 2005
Why August is so great?

August means Awe-inspiring; of majestic dignity

I hope you get the point presented by this August baby!
Scented Words posted by Raheel Lakhani :: 9:02 PM :: 0 Comments:

---------------oOo---------------
Drink Me!
How to make a Raheel
Ingredients:

3 parts pride

1 part humour

3 parts joy
Method:
Add to a cocktail shaker and mix vigorously. Serve with a slice of lustfulness and a pinch of salt. Yum!
Scented Words posted by Raheel Lakhani :: 4:17 AM :: 0 Comments:

---------------oOo---------------
Saturday, August 20, 2005
I am loving it (Btw its not about filthy mc donalds)

OMG!! I am loving it. Attended first class of my next paper due in Dec and Guess what we are studying?! HR/OB.. uff I completely in love with this subject. The best part is our teacher is so cool. I bet you! No one can teach this so-called boring subject with such expertise and remarkable humor. And the bestest part is, his biggest weakness is hindi movies.. which confirms that we will have a rocking time together.

PS: Good Marketing is that, which can sell combs even to a bald.
Scented Words posted by Raheel Lakhani :: 11:06 PM :: 0 Comments:

---------------oOo---------------

Telefun Musical Break - Hate 'em.. lolz

The three tracks that I've been religiously listening these days are:
Hallelujah - Arooj Aftab
Mera Pyar - Arooj Aftab
Bundeya - Khawar and Faiza Duo

I think Arooj Aftab has hell lotta talent but she needs to improve on voice projection which is a major lacking element in her vocals. I know people praise everything which is new, experimental or western in the context but I won't do such things blindly. Hallelujah, I just lurrve the lyrics of this song. I haven't heard the original but I guess Arooj has done her best in such limited resources.

As for Bundeya is concerned, this duo just rocks. Bravo!! I guess Faiza Mujahid is a refreshing change for music buffs as a female vocalist having great depth in her vocals. She can sing both classical and western notes and scales to perfection. She will go a long way.

So, if you haven't lend your ears to these tracks then here are the links:
http://www.thesahilzone.com/arooj_aftab
http://www.khawarandfaiza.com
Scented Words posted by Raheel Lakhani :: 4:50 PM :: 0 Comments:

---------------oOo---------------
Now thats an issue.
Scented Words posted by Raheel Lakhani :: 10:44 AM :: 0 Comments:

---------------oOo---------------
Friday, August 19, 2005
Moving on!

Once one of my friend said to me that she is missing the experience of university life. She is missing the experience of making new friends. All this compells her to remember and cherish the sweet memories of youthful college days. Today I can completely relate to her. Both of us are getting same professional qualification and we are bound to move forward from our course to another, from one paper to another, from one class to another. People come, interact with us and then vanish in months. Solitude surrounds you most of time. I know I won't ever get the same uni-wala environment, I won't get chance to chit-chat and do masti(fun) in those carefree groups, I won't annoy teachers like I used to do and I will surely miss it! but sometimes I think its for good. Friendship is very beautiful relation but usually it tends to hinder your educational process and success and above all most friendships are not long-lasting. New friends relatively demotivate you. On the contrary, when you are ready to sacrifice all this, a passion and zeal lightens up like a fire in your soul to do the best you can to achieve that goal. So here I am, cherishing the past memories and heading towards future. I can't wait to meet my old friends, teachers and lovely school campus on 27th August which is the founder's day of AKHSS.
Scented Words posted by Raheel Lakhani :: 11:24 PM :: 1 Comments:

---------------oOo---------------
Thursday, August 18, 2005
Anubhav voted out.. complete disgust!

I am a sucker for music and reality tv. And when both are gelled together, then the combination you get will just rock like anything.

Anubhav

is out of Fame Gurukul. I thought he would win this competition as he possess every-single-thing to make it big but the Indian public consists a majority of emotional fools who voted for Qazi instead. Qazi is a big loser, a wannabe who is more of a silly actor then a remarkable singer. He is nice at heart but yaar competitions don't run like this. Whateva! I will miss Anubhav's performances but I am sure that success will hit him in the near future.

PS: My horoscopes states that something bad or a problem is forseen. I ain't ready for it. I hope all this is not true.
Scented Words posted by Raheel Lakhani :: 10:15 PM :: 0 Comments:

---------------oOo---------------

Failure of Elections

People have voted twice or thrice.
Polling Booths were unorganized.
Polling was stopped at many places before the allotted time period.
Weather was very lousy.
A lot of disputes and blood-shed happened.
Many people went home without voting just because they were disappointed by all this stuff.

Briefly, all those things happened which were predicted/expected.
Scented Words posted by Raheel Lakhani :: 8:24 PM :: 0 Comments:

---------------oOo---------------
What type of teenager are you?


The studious student. You are definitely pressured and suffer from side effects from built up stress. You are constantly occupying yourself with books, studies, or some other hobby. You
feel squeezed in place and have litte movement. Most of the time you are busy with work and
family, and would love to spread your wings and relax. One like you needs to find a certain time of the day to just sit and release the tension. However, you are doing fairly well in school, but that does not mean that you can continue stressing yourself out. Take a breather and head out with some friends.



You can consider going into a field like librarian, politician, journalist, archeologist, scientist, or lawyer. You have a brain...NOW USE IT....but please...spare yourself the pressure and create some down time for yourself. Or develop a hobby that releases tension, such as knitting (it worked wonders for me)


What type of teenager are you?
brought to you by Quizilla


PS: Knitting.. a bad idea indeed.


Scented Words posted by Raheel Lakhani :: 3:07 PM :: 0 Comments:

---------------oOo---------------
Wednesday, August 17, 2005
Chain Blog Comment

So here I am posting this chain, just because I like stupid things. And I also find these evil chains as a fun timepass. Here are the details:


comment on this post, and....

1. I'll respond with a random thought I have about you.

2. I'll tell you what song/movie reminds me of you.

3. I'll pick a flavor of jello to wrestle with you in.

4. I'll say something that only makes sense to you and me (or so we
think).

5. I'll tell you my first memory of you.

6. I'll tell you what intoxicant you remind me of.

7. I'll ask you something that I've always wondered about you.

8. If I do this for you, you must post this on your journal.**** Not
really, but it would be nice to continue it on. :)



[via Baptized Lucy]


She actually asked me whether I am sure that I am not 12. So here is the answer, I am 12 at heart and 19 on face *BL applause this young at heart guy* :lol: Hai koi jawab?!

Beware i shall show no mercy in my comments =P
Scented Words posted by Raheel Lakhani :: 10:54 PM :: 0 Comments:

---------------oOo---------------

My heart goes shalalala

Guess what?! I scored 94% marks in today's exam and by now you should know to whom the credit goes.. obviously to my dear God and I am thankful to HIM for all the blessings and help that HE bestows upon me. Woohooo!! Exams are over and Its time to party rather sleep. :lol:

And the best thing is now I can visit my favorite blogs and write tons of stuff. Happy me!

Thanks to all who wished and prayed for me.
Luv ya all
Scented Words posted by Raheel Lakhani :: 10:11 PM :: 0 Comments:

---------------oOo---------------
Tuesday, August 16, 2005
Nayi Taazi - Freshly Baked

With the grace of God, everything went well today. I scored 84% marks in the examination. I am happy with the result. All credit goes to God Almighty because without HIS help, I am nothing - Thank you to my dear God. I believe your prayers have also worked very well. Now tension is building up, I am so scared about tomorrow's exam. I think an exam without any gaps completely sucks. The case becomes worse, if you don't have a sound preparation. I hope everything goes well and as always I want your prayers, more badly this time. I guess now I should move my butt and start studying hard.
Scented Words posted by Raheel Lakhani :: 3:57 PM :: 0 Comments:

---------------oOo---------------
Monday, August 15, 2005
I miss my indian brothers and sisters living across the border
*Happy Independence Day* to 'em


Scented Words posted by Raheel Lakhani :: 11:58 PM :: 0 Comments:

---------------oOo---------------



I have an exam tomorrow and I need you prayers badly. Please wish me good luck and awesome grades.
Amen
Scented Words posted by Raheel Lakhani :: 4:01 AM :: 0 Comments:

---------------oOo---------------
Sunday, August 14, 2005
Azaadi Notes

My friends Dodo has this nick on msn messenger:
Pakistani ki azaadi huh... Azadi celebrate ki to car tape chori hogaya
Lo jee yeh to haal hai yehan!

An interesting observation from Heewa:


Pakistan is home to more than 160 million people.. Look around! Don't end up marrying ur cousins.


LMAO =P
Scented Words posted by Raheel Lakhani :: 9:06 PM :: 0 Comments:

---------------oOo---------------

Happy Independence Day

I know this is a very crucial time. I know many big problems still exist but on the other side of coin, we have also developed in many areas. We blame the system every now and then but forget that we ourselves make the system. I know things will get better, all we have to do is to take small steps and work on the principle of HELP YOURSELF! I lurrve my country the way it is because its a part of me! and I know I won't be the same person elsewhere.

Spend this Independence Day with the song AGOSH. Don't only listen it but also try to understand it with a wide accepting perspective. Here are the lyrics:

Tootay huway un khwabon kay
Uss dahektay sooraj tallay
Banjar thee woh
Falak say jo tapkay na jo
Umeed kay qatray thay woh

Piyaasi thee woh
Talakh ansuwon kay sailaab say
Bhee jo ho na saki num toh
Rotee thee woh

Yeh zameen, Meri maa thee woh
Khuda ka wajood, Mabood thee woh
Saya thee, Raushni bhee thee woh
Qadam tallay jannat
Meri aghosh thee woh

Jiss aasray keh liye
Rooh tadapti thee uss kee
Woh dhoka tha mein
Jiss shama ko, Jala na sakee
Woh andhaira tha mein
Yeh gunah-gar haath bheek kee chah mein
Jo badhain darbadar uss kee soo
Darr rahi thee woh

Aankh say tapka jo ab yeh lahooo
Zakham bharnay laga
Sar-ba-sajood hoon uss ke hazoor
Gunah dhalnay lagay
Darguzar aaj us maan nay kiya
Faslay simatnay lagay
Wahdahoo! Uss kee kokh say hoon
Aik hee nabz, Aik wajood

Yeh zameen, Meri maa hai yeh
Khuda ka wajood, Mabood hai yeh
Saya thee, Raushni bhee hai yeh
Qadam tallay jannat, Meri aghosh hai yeh
-Agosh by Entity Paradigm


Scented Words posted by Raheel Lakhani :: 3:23 PM :: 0 Comments:

---------------oOo---------------

Dependence and Corporate Culture on I-DAY

Are you wearing green today? I guess it doesn't matter much. Every August specially on 14th, every one goes nuts about I wuve you Pakistan.. This is mera Pakistan and tera Pakistan, maybe Uncle Sam's ka Pakistan or God's knows whos pakistan.. Most probably Corporate entities ka Pakistan who stuff channels on I-DAY with loads of money to market their not-s0-related products. Every one today is heading towards his/her own self interest. Btw this chat is sponsered by Red Bull because 'RED BULL GIVES YOU FREEDOM KE WINGS.. So this I-Day get drunk on it and enjoy!' . Tune in the PTV channel and I bet you! they would be telecasting such ads like 'Lado Maar Sabun Banane wale paindoo enterprises ki taraf se ahl-e-watan ko azaadi ki dili mubarkan.. Lado ke lashkare Jagmak Kapde Saare'(Inspired from Heewa's Nick =P) We have already sold our skyline to these companies, now lets make some more money by selling everything else too. Most of us who are celebrating this day, have a buried selfish motive behind all this.

Is patriotism only about 08/14? It seems like Pakistan is only respected on this day because in other eleven months, we are just cursing our homeland. Are we patriotic in reality or are we just faking it? You decide!

PS: Don't forget the white adjacent to green because Minorities is a major part of our country. I love 'em all and hope you feel that too.
Scented Words posted by Raheel Lakhani :: 1:09 PM :: 0 Comments:

---------------oOo---------------
Saturday, August 13, 2005
Birthday Special =)

A big Thankoo hai jee, to all who wished me on my birthday which includes Mom and Dad(for yummilacious cake), Heewa(for the first call and testimonial wish, you made my day :D.. aray wah!), Pappa and Mamma(for the first e-card), Shazia(for the first SMS), Kazim(for the first scrap), Saebz, Saady, Sid, Shirazi, Punk Atif, Umema, Hamid and all those lovely people on blogsphere who are wishing me since August 1st, 2005 =P You all made this day a special and memorable experience for me. How can I forget all those bazillions of people wishing me every second one after another at the community centre.

And if you people are interested in knowing whether I got wasted on my birthday or not then read this:
Firstly at 12 AM I thanked God for all the blessings and lovely people that HE has given me from my first on this earth. I studied till afternoon for examinations then the guyz(Asif, Bey, Hina, Sana a.k.a. nani) came to my place. Then we enjoyed a rocking celebration. Cake cutting thing was done about 5 times because they wanted to take a perfect snap duh! The next thing that I can remember is the chocolate cake that was all over my face, eww!! but it was fun anywayz. Then we did all the masti-n-fun. They told me the whole story behind the gift selection. First they thought that they should give me a Pakistan-ka-flag or present me some hair dye but they were confused about which weird color will suit me. Then they thought to give me a baby toy but demolished the plan becasue a busy person like me never gets enough time to play with it or maybe a dictionary but that didn't seem to be a nice b'day present. Finally they decided to give me a peacock replica which opens his feathers everytime you touch it.. nice naa, simply beautiful! and then at evening you already know what happened at c. center. Inshort mashallah se, it was nice fun day. And Mr. Ahsun, Hoppy Budday to you too =)

Btw General Muchi jee have started to Rs. 20 note on my birthday. Lets celebrate Inflation along with my birthday.

Here are the pics..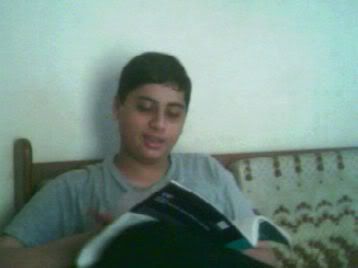 studying on birthday.. weird haina?!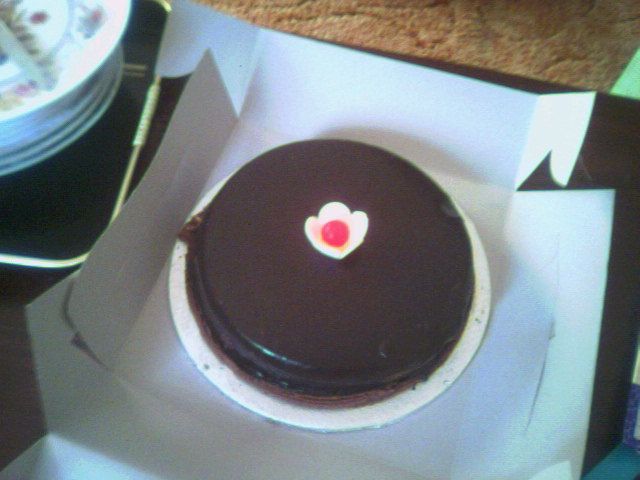 simply irresistable!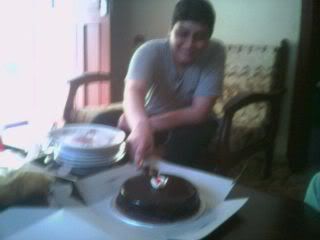 I was cutting it for the fifth time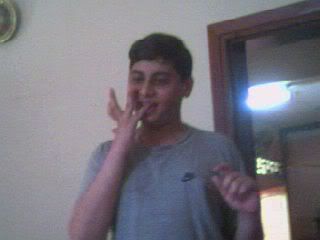 yummy.. and why the hell you wasted that piece for my face. I would have eaten it too =P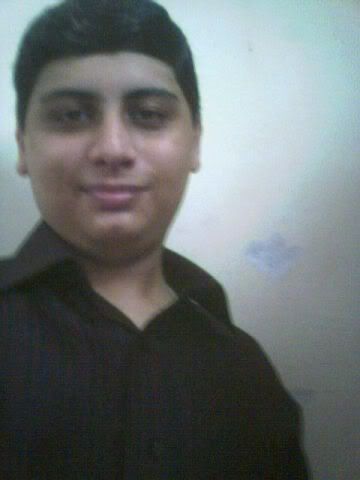 afterall its my budday yaar :D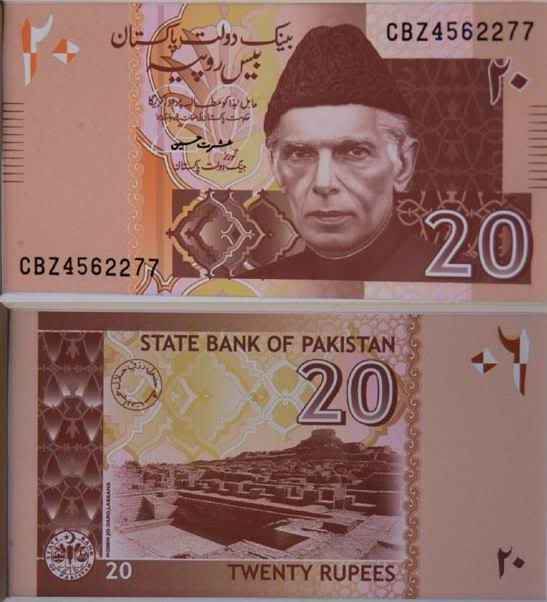 Hoppy Budday from Uncle Sam's best buddy - Mr. Muchi Wala


God bless, Thanks and Love ya all.
Scented Words posted by Raheel Lakhani :: 11:04 PM :: 0 Comments:

---------------oOo---------------
you don't impress me much
Scented Words posted by Raheel Lakhani :: 12:15 AM :: 0 Comments:

---------------oOo---------------
Friday, August 12, 2005
exaggeration at its best =P

Congratulate me my buddies, today I have successfully swallowed my first ever tablet.. Hurray!! *hears some applause coming far from prem gali*

But now after that an hour has passed, I still feel something is stuck inside my esophagus.. and it literally feels pathetic!

I have my examinations on this tuesday and wednesday. I am running short of time for preparations because before I had an illusion of having a nice-nice wali preparation but now I think I am in a big trouble. So please pray for me.

Love ya all
Scented Words posted by Raheel Lakhani :: 10:42 PM :: 0 Comments:

---------------oOo---------------



one more day to go!
Scented Words posted by Raheel Lakhani :: 3:15 PM :: 0 Comments:

---------------oOo---------------
Thursday, August 11, 2005
Budday Celebrations

Mashallah se, I was the first one in my family whose birthday was always celebrated in a grand way till I entered the teenage. I still remember and cherish that excitement which I felt as a child as soon as the month of August started in full swing. I used to plan everything in advance.. even my dreams had the similar task to perform. Whole house(not whole but lounge) decorated with party ribbons and baloons, playing those musical chairs and such similar games, the unwrapping session of gifts, the distribution of host gifts.. all that were some nice memories that I love to recall till date.

Now when I am about to complete my nineteen years on earth, I still feel the same anticipation and the same enthusiasm but yes priorities have changed. Now all I want is to eat is some yummy chocolata cake and appreciate kind greetings of some lovely people.

Btw the habit of sleeping long after a hectic birthday haven't changed much.
Scented Words posted by Raheel Lakhani :: 10:09 PM :: 0 Comments:

---------------oOo---------------

Come Waste your time with this!

Interview with Search Engine

Simply hilarious!
Scented Words posted by Raheel Lakhani :: 6:00 PM :: 0 Comments:

---------------oOo---------------
Wednesday, August 10, 2005
For all those who read Kahlil Gibran

Half of what I say is meaningless but I say it so that the other half may reach you.
-Kahlil Gibran
Scented Words posted by Raheel Lakhani :: 11:23 PM :: 0 Comments:

---------------oOo---------------

pakao stuff.. not really!

1. Chewing on gum while cutting onions can help a person from stop producing tears. Try it next time you chop onions!!!!!!!!!!

2. Until babies are six months old, they can breathe and swallow at the same time. Indeed convenient!

3. Offered a new pen to write with, 97% of all people will write their own name.
My Response: wow!!

4. Male mosquitoes are vegetarians. Only females bite.
My Response: No Doubts about it as female species of human race does the same thing.

5. To find out if a watermelon is ripe, knock it, and if it sounds hollow then it is ripe.

6. Canadians can send letters with personalized postage stamps showing their own photos on each stamp.
My Response: Btw NIC(National Identity Card) Dept sucks big time in this photo kheeching stuff. Me looks like a drunk in my NIC =s

7. Babies' eyes do not produce tears until the baby is approximately six to eight weeks old.

8. It snowed in the Sahara Desert in February of 1979.
My Response: Lo jee! It doesn't rain in karachi and they are having snow falls. My city wants one too. I want to feel snow like Rani did in the movie Black - my secret wish!

9. Plants watered with warm water grow larger and more quickly than plants watered with cold water.

10. Wearing headphones for just an hour will increase the bacteria in your ear by 700 times.
My Response: Then my ear must have the largest population of back-to-ria.

11. Grapes explode when you put them in the microwave.

12. Those stars and colours you see when you rub your eyes are called phosphenes.

13. Our eyes are always the same size from birth, but our nose and ears never stop growing.
My Response: Now can you please stop lecturing me, I already have some living examples.

14. Everyone's tongue print is different, like fingerprints.
My Response: Imagine this, A person is licking the front screen of a scanner in order to get access control :lol:

15. Contrary to popular belief, a swallowed chewing gum doesn't stay in the gut. It will pass through the system and be excreted.
My Response: Ewww!!

16. At 40 Centigrade a person loses about 14.4 calories per hour by breathing.
My Response: OMG!! I want some heat.

17. There is a hotel in Sweden built entirely out of ice; it is rebuilt every year.

18. Cats, camels and giraffes are the only animals in the world that walk rightfoot, right foot, left foot, left foot, rather than right foot,leftfoot
My Response: My foot!

19. Onions help reduce cholesterol if eaten after a atty meal.

20. The sound you hear when you crack your knuckles is actually the sound of nitrogen gas bubbles bursting.
My Response: OYE BUBBLY OYE BUBBLY THIS WAS A PAKAO POST BUBBLY.
Scented Words posted by Raheel Lakhani :: 5:53 PM :: 0 Comments:

---------------oOo---------------
Tuesday, August 09, 2005
Accident Prone

Today I went to a doctor's place, he gave me a syrup and told me to come next week in morning with some m&m buntees with the help of which he will teach me how to swallow a tablet =P
Scented Words posted by Raheel Lakhani :: 11:17 PM :: 0 Comments:

---------------oOo---------------
Sunday, August 07, 2005
Do you waant to frandship with me? =P

First of all, I convey my heartiest wishes of Friendship Day(..today and always) to all my bloggy friends. I have made many good friends - who live in different countries - through my blog and it has been a great experience to know such nice people to whom I have never met or talked in person but still they mean a lot to me because somewhere deep within my heart I feel a beautiful long-standing relation with all of you. Thank you all for making me feel Special.

Exams are on their way, dates have been announced which means only ten days are left for the ulti-mate challenge. I am really scared.. okay not that much! Demo(Practice) Test went well today. It surely gave me some relief!

Reading Your Baby's Mind is an intersting article. Do check this out!
Scented Words posted by Raheel Lakhani :: 10:32 PM :: 0 Comments:

---------------oOo---------------

Anyone wants some shampoo?

I was watching "Javaid Shampoo"(a telefilm by Faisal Rehman and Bilal Minto) on Geo. It was first premiered at Kara Film Fest last yaar, which I missed unfortunately and till now I regret it. It was a pleasurable viewing experience. It narrates a story of a person who makes counterfeit shampoos and a group of elites - a storyline which is not too much focused. The telefilm depicts two major dilemmas with great timed mocking humor. Those dilemmas are: malfunction of social values and narrow-mindedness of confused desis. It has a lot of hidden meanings attached to it but according to the makers they've not realized these bits during the production process. The thing I liked the best was the character of Maliha(Zainab Abbas) which was conceived and performed very well. The bits from Benazir's Interview and Pehla TV Ads were also amusing. I highly recommend it!! For repeat telecast timings, check Geo TV.
Scented Words posted by Raheel Lakhani :: 6:09 AM :: 0 Comments:

---------------oOo---------------
kuch zayada hoga?!
I guess by now, You must have known that my birthday is coming on the 13th of this month. And I have discovered this feature for all those nice people who are planning to get a gift for me and are pretty confused.. so 'the kind me' has decided to make things easy for you.
Seeking the ultimate birthday gift for a Leo? If you can wrap up fame or tie a bow around the spotlight, you're set! Since fame's not really for sale, this Fire Sign will accept a big, boisterous surprise party at which they get to be the absolute center of attention. Leo may be grand, but this Sign is actually easy to please -- as long as it's the object of everyone's affection!

Perfect Gift: Leo can be vain, so a gift that reflects that dramatic personality and stunning physical beauty goes over best: Try jewelry, clothes or tickets to the theatre.

What does a Leo wish for as the candles are blown out?
An Academy Award

PS: BTW don't be happiee that soon, this is not-at-all my last pre-birthday post - only if my life is still alive and my net too.
Scented Words posted by Raheel Lakhani :: 12:08 AM :: 0 Comments:

---------------oOo---------------
Saturday, August 06, 2005
The power of forgiveness

Do you remember the last time when some-brutal-one did something extremely bad to you? If your answer is 'yes' and you remember it then you're in a big trouble. Why in trouble?! You will get the answer pretty soon.

This happens with almost everybody that there come such people who create a lot of distress in your life. They just want to make things difficult for you. You can't tolerate their presence for even a second because of all the hurt that is attached to you due to their wickedness. You would probably not even like them to be part of your illusions or imagination. Still you think about them but have you ever thought whether this much of concern filled with hatred and pain is worth enough? I guess, not even for a million bucks.

What will you get from wasting so much time and energy over the person who has already generated scores of frustration for you? Every person has to bear his/her reasonable share of happy and sad moments in his/her life so the best thing to do is to forgive others and move on. In fact by forgiving others, you are doing a big favor to your own self. You are saying adieuz to all those bad memories attached with you due to them. Do you know while you are in anger or depression, you breathe your own exhaled poison? Do you want to spare your beautiful life and harm yourself because of some lousy being? I bet! You won't.

Just think for a moment, how beautiful life would be without all those rotten heartaches. There is no use in cursing them, instead pray for that my dear merciful God give them divine wisdom so they can understand the positives. Life is a precious gift from God so try to cherish it by appreciating small kind gestures. Sometimes all you have to do is let it go! So now go and forgive others and don't forget to forget those grudges forever.

End Note: Forget or else don't Regret!
Scented Words posted by Raheel Lakhani :: 2:17 AM :: 0 Comments:

---------------oOo---------------
Friday, August 05, 2005
Cute naa!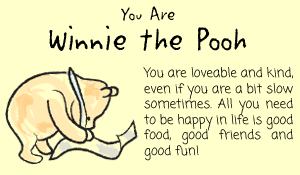 Take the 100 Acre Personality Quiz!
Scented Words posted by Raheel Lakhani :: 3:01 AM :: 0 Comments:

---------------oOo---------------
Thursday, August 04, 2005
A bumpy experience
Ever wanted to know how does it feel inside a blender, go take a Rickshaw ride.
PS: This is for all my foreign readers, Rickshaw is not an amusement ride in Disney Land. It is a means of public transport in Pakistan.
Scented Words posted by Raheel Lakhani :: 5:39 PM :: 0 Comments:

---------------oOo---------------
Tuesday, August 02, 2005
Who said less is more?!

Yesterday I studied alot, ate loads of donuts(who can possibly say that I am ill =P), talked so much, rescued myself from many minor accidents, appreciated several advices, got annoyed like hell, countless happy moments, various tensions, received scores of suprises. Life is so beautiful!! Everything was

H

U

G

E

- did you notice the italics?

I also learned a very important lesson rather I realized it. When there is a will inside you, then there is aways a way. Moreover God is ever ready for helping you at anytime. So I guess HE deserves a big applause and a life-size thanks from all of us.
Scented Words posted by Raheel Lakhani :: 4:16 PM :: 0 Comments:

---------------oOo---------------
Monday, August 01, 2005


Finally August is here.
Scented Words posted by Raheel Lakhani :: 3:37 PM :: 0 Comments:

---------------oOo---------------
Search Malfunction


I checked my blog patrol account and came to know that these stupid search engines refer my blog to such lousy searches. Lmao!! Aren't those searches funny?! especially the last one. bwahahaaha.
Scented Words posted by Raheel Lakhani :: 2:52 PM :: 0 Comments:

---------------oOo---------------